What Are Dental Implants?
Your teeth are one of the first aspects of your appearance and health that someone notices when they meet you. Whether you're at a job interview or on a first date, missing teeth can have a detrimental impact on the ever-important first impression. It's not always about aesthetics though. Missing teeth can cause your oral and overall health to deteriorate over time. Our Houston dentistry office offers restorative dental implant options to renew your health and smile and give your jaw, gums and remaining teeth the opportunity to thrive again.
If you have an interest in learning more about dental implants, please contact Dr. Ronald Konig in Houston today at 713-668-2289  to schedule your consultation. Dr. Konig provides expert implant dentistry and cosmetic dentistry services to clients in the Houston, Katy, Sugar Land and The Woodlands areas of Texas.
Why are Dental Implants Difference from Dentures or Bridges?
Dental implants are permanent, artificial tooth replacements used in patients who are missing one or more teeth. Dentures and dental bridges are often used for multiple missing teeth, but these removable alternatives may cause discomfort and can lead to bone loss and poor nutrition. Dental implants look and feel natural and allow you to retain full function of your teeth and jaw while also promoting good oral health and dental hygiene.
Why Replace Missing Teeth?
Missing teeth can damage your overall health and quality of life by preventing you from properly chewing your food or from eating your favorite foods, causing you to hide your smile and many other lifestyle side effects you may not have thought of. Whether you are missing a single tooth or multiple teeth, it's important to consider replacing them to keep your mouth, body and mind healthy.
There are many inevitable consequences that arise from missing teeth including:
Shifting teeth. With no resistance from your missing tooth, your remaining teeth can begin to move and prevent your jawbone from functioning properly.
Difficulty chewing, eating and possibly speaking. The most commonly lost teeth are your back molars. As your teeth shift due to the open space, your front teeth push forward and can cause bite collapse. Bite collapse then leads to motor issues such as chewing, eating and speaking difficulties.
Bone loss. Your jawbone relies on stimulation and pressure to maintain bone width and density. When you lose a tooth and fail to replace it, you lose up to 25 percent of your jawbone density within the first year.
Tooth decay and gum disease. Bacteria accumulates quickly in your mouth. The buildup of plaque increases when teeth crowd and shift, which can lead to advanced gum disease and tooth abscesses. When left unchecked, decay and gum disease can ultimately lead to root canals and tooth extractions.
Increased stress on your jaw and remaining teeth. The mounting pressure on your residual teeth and jawbone loss can cause your teeth to wear down prematurely.
Missing teeth can lead to more missing teeth. Due to bone loss, shifting teeth and the potential for tooth decay, you're likely to lose more teeth if you don't replace those already missing.
Facial changes. As your mouth adjusts to the open space left behind by your missing tooth, your face begins to change shape as well. Your cheeks can appear sunken and your lips could become thin which causes you to appear much older. Additionally, the lower one third of your face can also collapse causing jaw problems and/or an aging affect.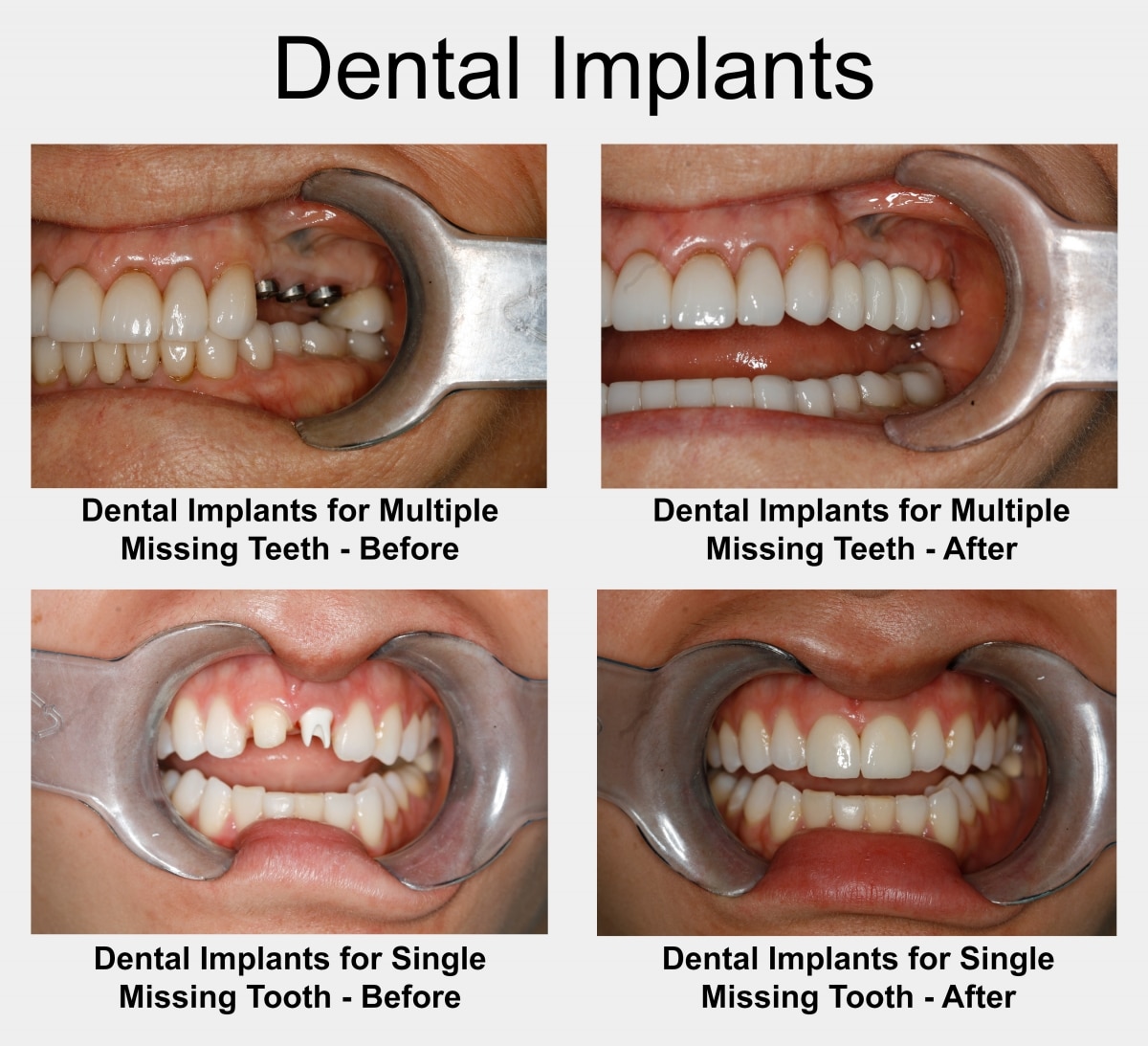 What are the Benefits of Dental Implants?
Dental implants are one of the best cosmetic dentistry tools available for missing teeth. They not only replace your tooth, but also the root of your tooth. They blend with your remaining teeth and mimic your natural enamel. You can even care for artificial dental implantsthe same way you do your natural teeth.
There are many ways dental implants can repair your dental health and quality of life such as:
Stopping continued bone loss. Implants don't rely on soft gum tissue to keep them in place like dentures do. Dental implants fuse to your jawbone, replacing the root of your lost tooth and signaling to your body that proper bone density is still required to maintain function of your jaw.
Strengthening your oral health. These implants don't need to be taken out in order to be cleaned. You can maintain dental implants the same way you do your natural teeth. Brush, floss and rinse normally to prevent tooth decay and gum disease.
Helping to maintain a balanced diet. Traditional removable dentures and bridges often cause patients to avoid hard-to-chew foods including fruits and vegetables. A malleable, soft food diet leaves out many necessary nutritional elements and can cause digestive issues, but you don't have to limit your diet with dental implants.
Restoring facial shape and symmetry. Dental implants can help you regain your smile and facial shape. They also stop your adjacent teeth from migrating into the empty space left by your missing tooth.
Providing a lasting, healthy smile. When compared to other restorative/cosmetic dentistry alternatives, dental implants are much more durable than removable dentures or bridges. Your implants could last a decade or even a lifetime.
Stabilizing your speech. Alternative options can affect your speech patterns just like missing teeth. Dental implants act similarly to your natural teeth, don't interfere with tongue or mouth movement and don't require you to make lifestyle adjustments.
There are many aesthetic benefits and health advantages of dental implants. Dr. Konig can help you figure out if dental implants are the right choice for you during your consultation in our Houston office.
Dental Implant Procedure Options
Depending on the number of teeth you're missing and the health of your bone, gums and surrounding teeth, Dr. Konig will recommend one of these dental implant options:
Multiple teeth implant replacements
Missing teeth can cause further tooth loss and severely harm your overall health. Dental implants can restore vitality to your teeth, gums and bone while also protecting you from bacteria and dental diseases linked to heart disease, diabetes and many other medical conditions. Our implant dentist, Dr. Konig, can help you regain normal function of your mouth and jaw and give you teeth worth smiling for.
Dental Implants Before and After Photos
Implant-Supported Dentures
Combining Dental Implants With Dentures
When you combine implants with dentures, the dental implants offer the following advantages:
Keep dentures in place
Allow you to eat and speak confidently
Dentures won't slide on your gums
Implants help retain strong bone beneath your teeth
Dentures are still removable when attached to dental implants
Typically, dentures are supported on four dental implants. Dr. Konig has extensive experience providing implant dentistry, and he can determine which options might be best for your situation to provide optimal results. Dr. Konig also offers small diameter dental implants to support dentures.
Dentures rely on suction to stay in place. As you lose more bone in your jaw through the years, there is less soft tissue and bone for this suction to hold the dentures in place. This creates loose dentures that affect chewing, speech, and self-confidence as well as continued bone loss in your jawbone.
Dental Implants can be placed which will anchor the dentures securely in place. Attachments inside the denture snap onto the implant in the jaw which holds them in place. On the upper denture, the palatal portion can be removed which allows for a much smaller denture and patient comfort.
The retention with these dental implant-supported dentures is remarkable. In addition to this retention and security, the facial support offered by implant-supported dentures provide a rejuvenated, full facial shape that looks more youthful than a collapsed, shrunken jaw appearance that can result from tooth loss and poorly fitting dentures.
Types of Dental Implant Prosthesis
A "prosthesis" is an artificial body part. For our purposes, it means an artificial tooth. In implant dentistry, the implant itself is not the prosthesis. Instead, the dental implant is used to support the prosthesis, which may be a dental crown, dental bridge or dentures.
Using a Dental Implant to Support a Dental Crown. For the replacement of an individual tooth, a single dental crown will serve as the prosthesis to replace the upper portion of the tooth. The implant acts as a replacement for the root of the tooth, providing the anchor to secure the dental crown.
Dental Implants to Support Fixed Dental Bridges or Multiple Missing Teeth. If you are missing two or more teeth, dental implants can be used to support a fixed (non-removable) dental bridge or multiple individual teeth. This type of prosthesis uses an artificial tooth – which sits in the place of the missing tooth – supported on either side by a dental crown attached to an implant. The crowns are fused to the artificial tooth, forming a bridge-like structure or can be in the form of three individual tooth crowns.
Dental Implants to Support Full Dentures. If you are missing all of your teeth, or the complete upper or lower dental arch of teeth, then Dr. Konig can use dental implants to support a complete prosthesis. A full denture supported by dental implants is a great option for replacing a full arch of missing teeth.
When you replace all of your teeth, you have the option of using a fixed or removable prosthesis. With removable dentures, the dental implants are of course non-removable, but the denture itself will have an attachment that allows you to remove them from the implants when you wish.
With a fixed full prosthesis, the replacement teeth will be secured to the dental implants. The advantage is that you do not have to worry about daily removal for cleaning. The teeth will also be very secure and will not run the risk of slipping or moving.
The number of dental implants you need will depend largely on which prosthesis is used to replace the missing tooth or teeth. Sometimes only one implant is needed. In the case of dental bridges or dentures, multiple dental implants will be used.
How do Dental Implants work?
It is important for patients to understand what to expect during their dental implant procedure. Generally speaking, there are three phases to dental implant care:
Planning Phase (This should include a 3D scan, so that no guesswork is needed)
Surgical Phase
Restorative Phase
The planning phase needs to include both the surgical and restorative phases to ensure that the desired results are achieved from a functional and cosmetic perspective. Proper planning from an experienced implant dentist can make all the difference in your long-term treatment success.
In the surgical phase, many implant dentists collaborate with oral surgeons or periodontists, who focus on the surgical skills. However, the restorative dentists, who have advanced planning and restorative skills, quarterback the case. This collaboration allows dentists to concentrate on a more focused area, keep up on new technology and techniques and provide more benefits to patients.
Dental implants are the only restorative option that actually anchors directly into your jawbone and mimics natural teeth from root to crown. Dr. Konig will surgically place a round, narrow screw-like post into your jawbone. The implant is made of biocompatible titanium which helps your body to naturally heal and fuse the implant with your bone. This integration forms a strong and durable base for your replacement crown.
After your jaw has merged with the implanted post, Dr. Konig will attach an abutment (small end piece) on top of the post during an additional surgery in order to later connect your artificial crown. This process is also used for implant-supported bridges or dentures — the difference being that instead of one crown, a bridge housing multiple teeth is attached to one or more posts via the abutments.
The surgical process involved with dental implants requires some recovery time. You may experience some minor general discomfort for several days, which can continue for up to two weeks. In many cases, no discomfort is possible. Dr. Konig will walk you through the recovery process and might prescribe pain medications and antibiotics if necessary to ensure your comfort.
Do I qualify for Dental Implants?
Dental implants work well for all ages. It's often elderly patients who are missing many teeth, but accidents, injuries, disease, poor dental hygiene and birth defects can all lead to missing teeth. You may qualify for dental implants if:
Your jaw is fully developed (this tends to happen between the ages of 16 and 18).
You're missing one or more teeth.
Your oral and overall health is in good condition.
Your jawbone is strong enough to support a surgically implanted dental post.
Dr. Konig examines your teeth, jaws, bite (the way your teeth meet together), gums and health, and discusses your expectations with you as part of determining if you are an implant candidate. He is committed to helping you find the tooth replacement option that will best fulfill your needs.
Can I afford Dental Implants?
The cost of dental implants can vary, especially when you consider whether you need one tooth or multiple teeth replaced. Our implant dentistry office offers financing options to help you afford your dental implants. Dr. Konig can give you the approximate treatment fee of your procedure during your initial consultation, and our office team will discuss financial options with you.
There are dozens of reasons to replace your missing teeth with dental implants. Your overall health will benefit from strong, healthy teeth and so will your self-esteem. Dental implants can restore your quality of life and keep your teeth, gums and jaw happy for decades to come.
Speak With Dr. Konig for Dental Implants in Houston!
There are many dentists who promote that they are a "dental implant specialist." Unfortunately, the ADA does not recognize dental implants as a formal dental specialty.
However, dentists, whether general or surgical, can become more proficient in dental implants through continuing education and skills training. Their skills will be determined in large part by the amount and type of additional training, as well as their experience in the field. The field of dentistry and dental implants in particular, has made rapid improvements and continues to change at an astounding pace.
For this reason, many dental implant-focused dentists work together to provide the best possible care for their patients, especially on more complex cases.
If you're missing one or more teeth, please call Dr. Ronald Konig in Houston today at 713-668-2289  to schedule your consultation. You can also fill out our appointment request form today for a personalized consultation to learn more about dental implants and whether you are a candidate for treatment! We welcome patients from Katy, Sugar Land, The Woodlands and nearby communities in Texas.