So many patients, adults and children, come into our office with overbites, underbites, narrow arches, and TMJ issues. Where does all this come from? Many are surprised that dentists who have special interest in TMJ and Non-surgical jaw development often recognize this and are able to help patients.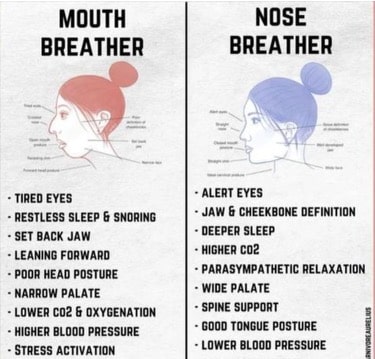 One issue that is highly overlooked is mouth breathing. Proper breathing is essential for overall health, not just dental or jaw development. Mouth breathing is not normal and when you breath through your nose, no nitric acid is attached to oxygen which makes it harder to be absorbed by the capillaries in the lungs. On top of this, if one mouth breathes the tongue assumes an abnormal posture or function. This means the tongue has to assume a lower and more forward position which causes growth abnormalities in children.
This often leads to long face syndrome, gummy smiles, narrow arches, crowded arches, What is happening is the low tongue posture allows the upper jaw to be constricted, leading to many of these problems. On top of this, the low tongue posture other times leads to a tongue thrust and open bites. So it does affect facial development and facial beauty.
Another issue is mouth breathing leads to dry mouth which contributes to gum problems and irritated gums and often decayed teeth. An important factor to pay attention to is how one breathes at night. Both kids and adults who have breathing disorders mouth breath at nighttime and often have sleep apnea as well. Poor oxygen exchange can lead to patients being tired and fatigued as well.
The good news is that most of these issues can be corrected non-surgically and also be helped with some myofunctional therapy as well.
This  article is intended provide a brief introduction to help those with issues have an awareness of a highly overlooked problem in America.
If you have any questions regarding Houston TMJ Treatment or Non-surgical jaw treatment, please feel free to contact us at 713-668-2289, Ronald W. Konig DDS, FAGD, LVIF.